FITS all 2013+ Darts with 1.4 Turbo engine, 2.0 engine and 2.4 engine!)
There are two ways to improve a cars handling outside of struts, and springs. Either swaybars, which connect the bottom of the struts on one side to the other side for rigidity, or by strut bars that attach the two strut mounts together on the top.
All cars flex with bumps, extreme cornering, and when going up ramps, over speed bumps, etc. Swaybars and Strut bars improve the cars rigidity and improve handling.
So, we set out to design a strut bar for the Dodge Dart and it was a challenge. However, we were able to design a strut bar that uses a oval style center bar that is narrow, but incredibly strong due to its wide design, and internal ribs.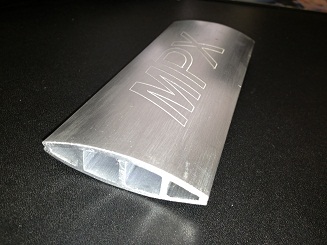 Using a center bar thats hollow but has internal ribbing allows it to be extremely strong, but yet lightweight.
Furthermore, becuase we used a narrow oval center section, this strut bar fits with the OEM engine covers in place with no rubbing!
There is no drilling required to install these strut bars, and only a simple socket set and allen key set are required to install it.
NOTE: Photos are of early production pieces, production strut bars you receive will be in perfect shape, fully polished, with painted ends and looking better than what you see in installed photo.
For more information on this product, click on any of the photos to jump to our site!